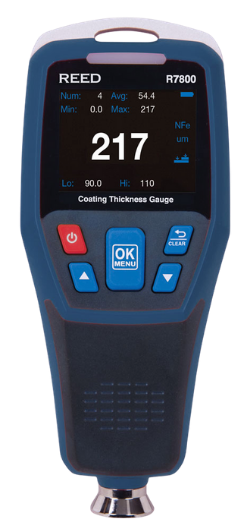 R7800 Coating Thickness Gauge
This coating thickness gauge is designed for non‐invasive coating thickness measurements. The R7800 features zero or two point calibration, user adjustable high/low alarms and a USB interface to further analyse results in the included software.
Product features and capabilities
• Automatically detects ferrous and non-ferrous substrates

• Easy-to-read color LCD display

• 360° screen rotation allows users to view measured readings from any angle

• Durable gauge and probe construction

• Zero and two-point calibration ensures measurement accuracy

• Low battery indication and auto shut off

• Single or multi-point mode allows a user to set tolerances and quickly identify whether a coating passes or fails

• Tri-color LEDs quickly indicate when measurements are below (red), above (yellow) or within set parameters (green)

• Internal memory stores up to 500 groups of data

• View stored data, charts or real-time measurement with software

Industries and applications for the R7800
Watch this video to see it in action
What's included with the R7800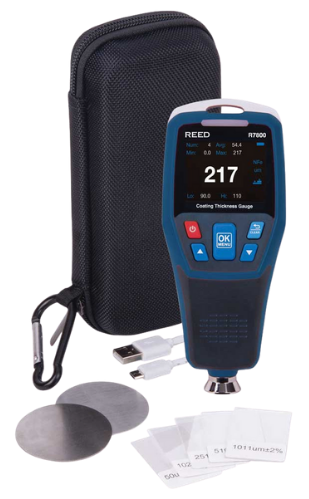 • Coating Thickness Gauge
• Ferrous Substrate
• Non-Ferrous Substrate
• 5 Reference Films
• USB Cable
• Wrist Strap
• Sensor Cover
• Batteries
• Hard Carrying Case

See what people are saying
"Very good product and fast delivery!"
Improve your quality control and reduce costs with the R7800.
Our nondestructive coating thickness gauge is ideal for precision measurement and quality control in various industries and applications. Whether you are measuring paint, plastics, or metallics such as zinc, chrome or nickel plating, the R7800 reliably measures coating thickness for every need.

REED CM-8822 Coating Thickness Gauge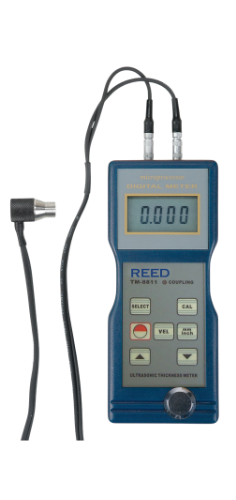 REED TM-8811 Coating Thickness Gauge