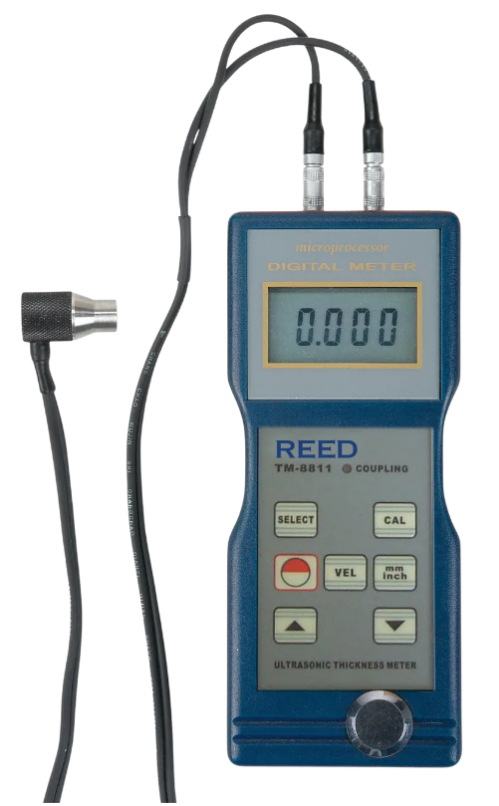 TM-8811 Ultrasonic Thickness Gauge
This ultrasonic thickness gauge has an easy-to-read LCD display and is designed to measure the thickness of 10 preset materials. The TM-8811 features a built-in calibration function, low battery indicator and includes couplant.
Product features and capabilities
• Measures the thickness of steel, cast iron, aluminum, red copper, brass, zinc, quartz glass, polyethylene, PVC, grey cast iron and nodular cast iron

• Displays sound velocity at the touch of a button

• Easy-to-read color LCD display

• Automatic material calibration

• User selectable unit of measure (in/mm)

Industries and applications for the TM-8811
Watch this video to see it in action
What's included with the TM-8811

• Ultrasonic Thickness Gauge
• Ultrasonic Couplant Gel
• Probe
• Hard Carrying Case
• Batteries

See what people are saying
"The Unit works very well and we were able to take reading on our sea water piping quite easily."
"Good value for the money and good advice."
Improve your quality control and reduce costs with the TM-8811.
Our nondestructive ultrasonic thickness gauge is ideal for precision measurement and quality control in various industries and applications. With a wide measurement range, the TM-8811 reliably measures material thickness of aluminum, brick, concrete, copper, glass, steel and much more.

REED CM-8822 Coating Thickness Gauge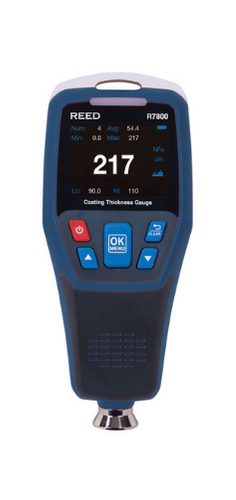 REED R7800 Coating Thickness Gauge